SMALL KITCHEN REMODEL WITH NOBILIA PRE-ASSEMBLED CABINETS
Blog post was written by: CLINT DEBOER, Editor-in-Chief, Pro-Tools Review
Pro Tool Reviews started in 2008, but we really took off in a big way around 2017 when we set up a large shop space for testing tools. That 2600 square foot shop included an office, but it had no bathroom and a tiny kitchen with almost no cabinets. We prioritized the bathroom, but now it came time to do a small kitchen remodel. When it comes to redoing a kitchen, even a small one, you have nearly endless options. One opportunity popped up almost serendipitously—using nobilia Cascada pre-assembled cabinets.
We decided on one of their Classic kitchen designs—the 774 Cascada—which they describe as "cottage style minus the cliché". It fits.
WHY A SMALL KITCHEN REMODEL?
The idea behind a small kitchen remodel is that we didn't really want to lose additional office space. After all, we only typically use the kitchen to prepare lunch. Since we already had a small ~31 square foot area designated for the space, we had some definite limitations.
Going with a small kitchen remodel helped us with some of the following issues:
It worked within our definite space constraints without requiring us to move or relocate walls
The small space remains easy to clean and doesn't dominate the office
A small kitchen remodel also helped us control costs. Without the need for a stove, dishwasher, etc—we immediately lowered our maximum out-of-pocket expenses for this job.
The above also reduced the amount of power and electrical circuits needed for that small space.
DESIGNING A SMALL KITCHEN
Now that we decided on a small kitchen remodel vs something larger, we had to design it. That ended up being the easiest part of the process. Having been contacted by nobilia*, we immediately jumped on their website to begin browsing and seeing what options they had available.
They have a handy checklist for planning your kitchen. We didn't really need that since we had a minimal amount of considerations for appliances and use due to the space. They did, however, have an excellent nobilia kitchen configurator that let us place virtual cabinets into our space and see what might work best. Our first attempt gave us a decent starting point, but nobilia took that and reworked our design into something much better. Their provided design is represented in the first image of this article.
INSTALLING THE NOBILIA CASCADA CABINETS
The first thing we did was bring the refrigerator outside of the alcove, giving us room for our nice L-shaped tiny kitchen remodel that would fill and fit the small space.
The space before remodeling our small kitchen look like this:
While it gave us a counter and some cabinet space, it lacked…nearly everything else. Formerly, the refrigerator took up the back right corner.
Nobilia Cascada Base Cabinet Installation
After removing the old cabinets, we next ran some additional electrical outlets on a new dedicated 20A circuit. We then prepared the base and wall cabinets for installation. This turned out to be extremely easy. Why? Unlike Ikea, nobilia supplies pre-assembled cabinets, not flat packs. Even though their system involves a proprietary installation method, you don't have to waste precious time assembling cabinets prior to installation. The fronts and doors also come covered in cellophane plastic that protects them from dirt and damage.
It took very little time before we had the nobilia Cascada base cabinets laid out in our small kitchen space. As you can see, we had some gaps on each side (not quite as big as they look in the wide-angle photo). Nobilia accounted for this with some spacers that we installed near the end of the process.
Before moving on to the provided "niche cladding" for the walls, we leveled and secured the base cabinets.
This turned out to be a simple task due to the inclusion of easily-adjustable plastic leveling feet on the bottoms of the base cabinets.
INSTALLING OUR SMALL KITCHEN REMODEL WALL CABINETS
Next, we installed our nobilia pre-assembled wall cabinets. The system nobilia uses includes a steel bar and cleat system. It should work well with most residential installations. You have to measure accurately, but seasoned installers can likely learn the process and quickly get cabinets up on the walls with a minimal amount of effort. Once placed, you can snug the cabinets to the wall from the inside.
After installing the wall cabinets, our small kitchen remodel started looking like a real kitchen! With the nobilia Cascada kitchen cabinets up on the wall, we could install the interior shelves and doors (we removed both to alleviate weight). Both the shelves and doors remove easily without the need for any tools.
After installing the doors, getting them perfectly aligned took only a few minutes and a screwdriver.
In addition to improving my initial layout, our 12-foot high ceilings also got some attention. Nobilia added another layer of pre-assembled Cascada wall cabinets with "flap doors". These open easily and stay open so you can store less-used items up top and access them with both hands as needed.
ADDING A BACKSPLASH NICHE AND COUNTERTOP TO OUR SMALL KITCHEN REMODEL
While we loved the nobilia pre-assembled cabinets, the niche and countertop really stole the show. We chose Havana Oak and it absolutely makes this small kitchen remodel pop! It looks like real wood and presents a nice contrast to the white cabinets.
Countertop Installation Process
After laying down the countertop, we added the included wood glue and plastic biscuits to hold the two pieces together at a 90-degree angle. Underneath the cabinet are places where you add some hardware to draw the two pieces together tightly. That required the use of a couple of wrenches. The end result was a perfect seam with no gaps anywhere.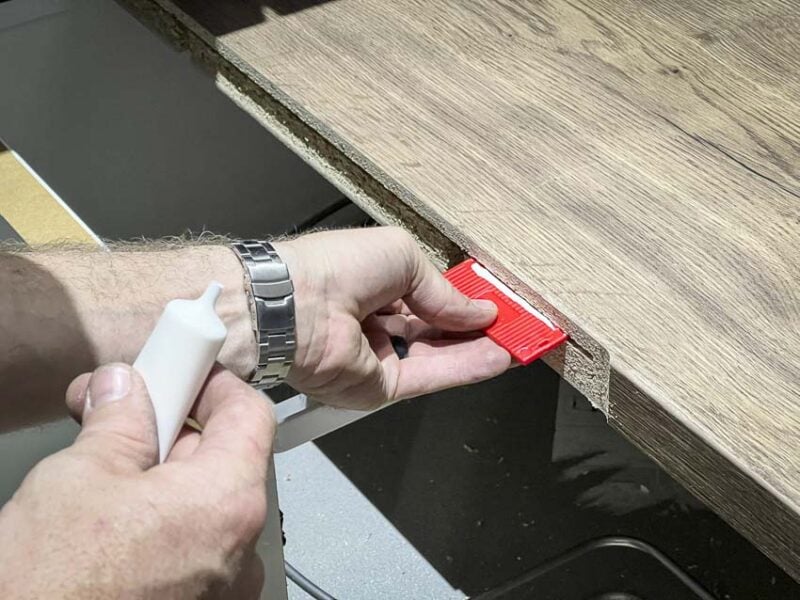 We next added the niche backsplash pieces and secured them to the wall using liquid nails.
ACCESSORIES CAN MAKE YOUR SMALL KITCHEN REMODEL POP
Once again nobilia surprised us with their attention to detail. They not only offer kitchen cabinets, countertops, and niche cladding. They also provide a good amount of accessories to really dial in your kitchen and increase its productivity and usefulness.
For handles, we went with a nice stainless steel look that complimented the rest of our office. These are installed simply onto the doors of the nobilia pre-assembled cabinets with just a screwdriver.
We also took advantage of some drawer inserts and even fun things like a set of knives and seasoning grinders and dispensers.
Lastly, we added undercabinet LED lighting. That really helped illuminate the countertop and they provided lights for each top cabinet and a switch to turn them on and off. They even provide integrated routing to get the wires hidden at the back of each cabinet and out of sight. You can configure the lights for various color temperatures and output settings.
The attention to detail and the wide variety of available colors, options, designs, and configurations make nobilia unique in a very wide field of manufacturers.
FINAL THOUGHTS ON THIS SMALL KITCHEN REMODEL
Our original plan was to drive to our local home improvement warehouse, buy some in-stock cabinets, and cobble together a small kitchen remodel from what we found available. Imagine our surprise when nobilia reached out and offered to send us a tiny kitchen in exchange for writing up our honest thoughts on it. It presented an opportunity we couldn't pass up.
About the only negative we can say following this entire process isn't really a negative. Products from nobilia are designed for both custom and larger projects. This isn't a DIY brand designed for one-off self-installation. These are pre-assembled cabinets designed for experienced installers. In fact, the company expects its consultants to work with a client's builder, architect, or developer.
The nobilia system would also work well for providing beautiful high-end kitchen solutions for an entire planned urban development or similar housing project. With so many options, styles, and accessories, this type of flexibility and service should have some serious appeal to developers. With a priority on consistent installation methods and flexible design, nobilia offers an excellent solution.
If you're building a home or remodeling a high-end kitchen or you want a truly flexible, high-end kitchen solution for your next development project, give nobilia a look via their North American website.
*Special thanks to nobilia for furnishing the cabinets, countertops, wall niches, and accessories for this small kitchen remodel!
---
Want more? Join our newsletter and get the latest tool reviews every week!
And…we'll even send you our "Best Tools for Your Hard-earned Dollars" white paper!
ABOUT THE AUTHOR
EDITOR-IN-CHIEF
When he's not playing with the latest power tool, Clint DeBoer enjoys life as a husband, father, and avid reader—especially the Bible. He loves Jesus, has a degree in recording engineering, and has been involved in multimedia and/or online publishing in one form or another since 1992.
Original article link: https://www.protoolreviews.com/small-kitchen-remodel-nobilia-pre-assembled-cabinets/